Green Pigments in Watercolor



Here we are, the last pigment of the secondary colors... green.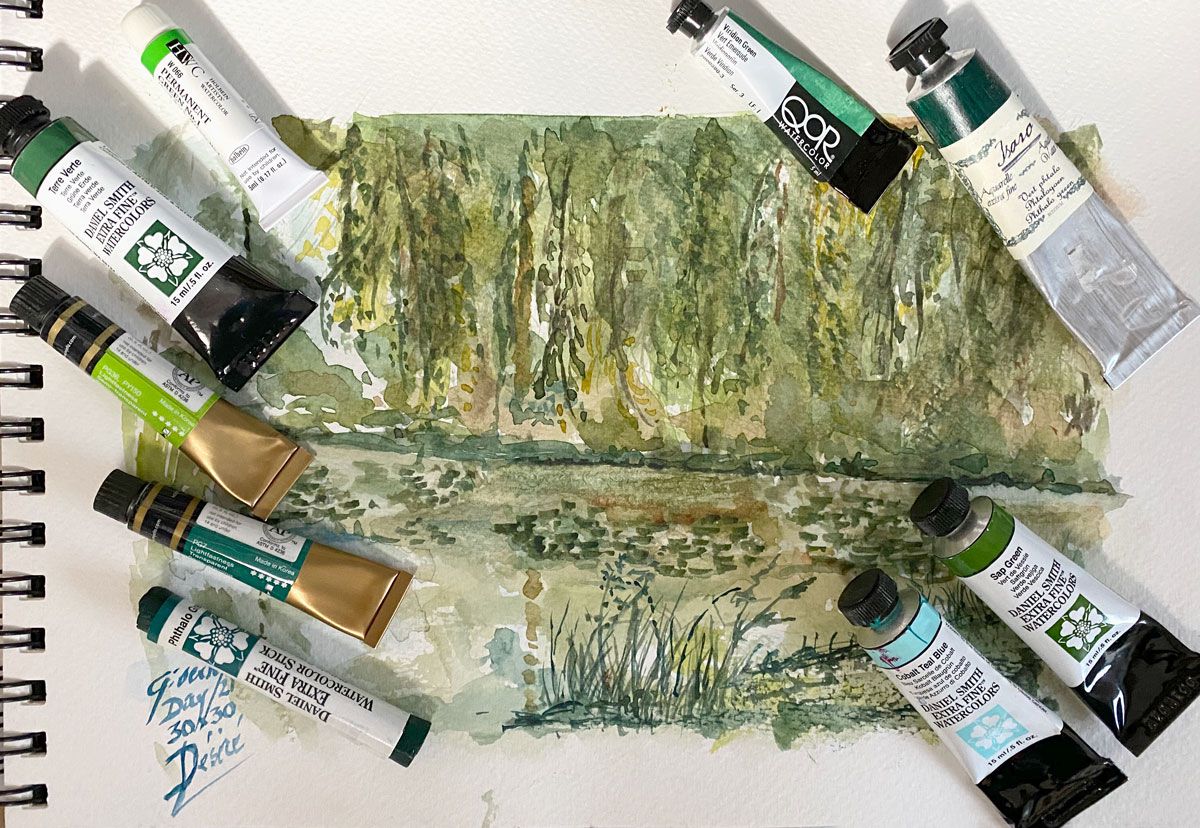 This color is quite special ! I will dedicate 3 different articles to it as it's quite complex because there aren't many green pigments on the market and most of them are quite unnatural . So most of confirmed and advanced watercolorists mix their greens themself. Normally we only have to use a yellow to mix into a blue, or vice versa, to obtain a wide range of greens, but this is not enough, we can alter the hue using different other pigments also …. That's why i decided to write 3 different articles.
Here is the first article and it shows the samples of green mono pigments as well as mixtures offered by various manufacturers.
In a second article I comment on how to create the shades of green with the 2 primaries (yellow and blue). And then in the third one, I'll provide you with tricks to get the natural shades of this colour, and other ways to explore for your green mixes.
The greens are colours that are very personal. Each one sees them differently ! Very present in our lives and in nature, green is the dominant color in the palette of the landscape painters. However, the green mono-igments in pure form comes by just a few and they are very pronounced have a unnatural look, which makes the color very difficult to use in its pure composition.
Because of this it is a puzzle for watercolor beginners ! In fact, the usable greens are often mixtures, a green with pigments of other colors, in order to obtain a color described as " natural ".
First, I present to you the green pigments in this summary table.
And now the presentation of the samples of the most used green pigments, first comes the mono-pigmented followed-up with mixtures composed with this pigment,

PG7
Polyclorinated Phthalocyanine Copper
A deep green with a blueish tone . Strongly staining. It darkens, dulls, and fades.
It can "Bronze" (develop an iridescent lustre). Highly resistant to light BWS 8:8:8 and extremely staining! Manufacturers add fillers and binders or other products to help control the strength of the color and its appearance,luster or shine.
Phthalocyanines have a tendency to granulate strongly, the manufacturers add fillers to regulate this aspect. The greens phthalocyanines are non-granulating in watercolor.
This green is very little natural, but a good base to mix your " Homemade green". It biggest problem is his tinting strength, almost impossible to correct. Yet, it is the base of many mixtures of commercial greens ...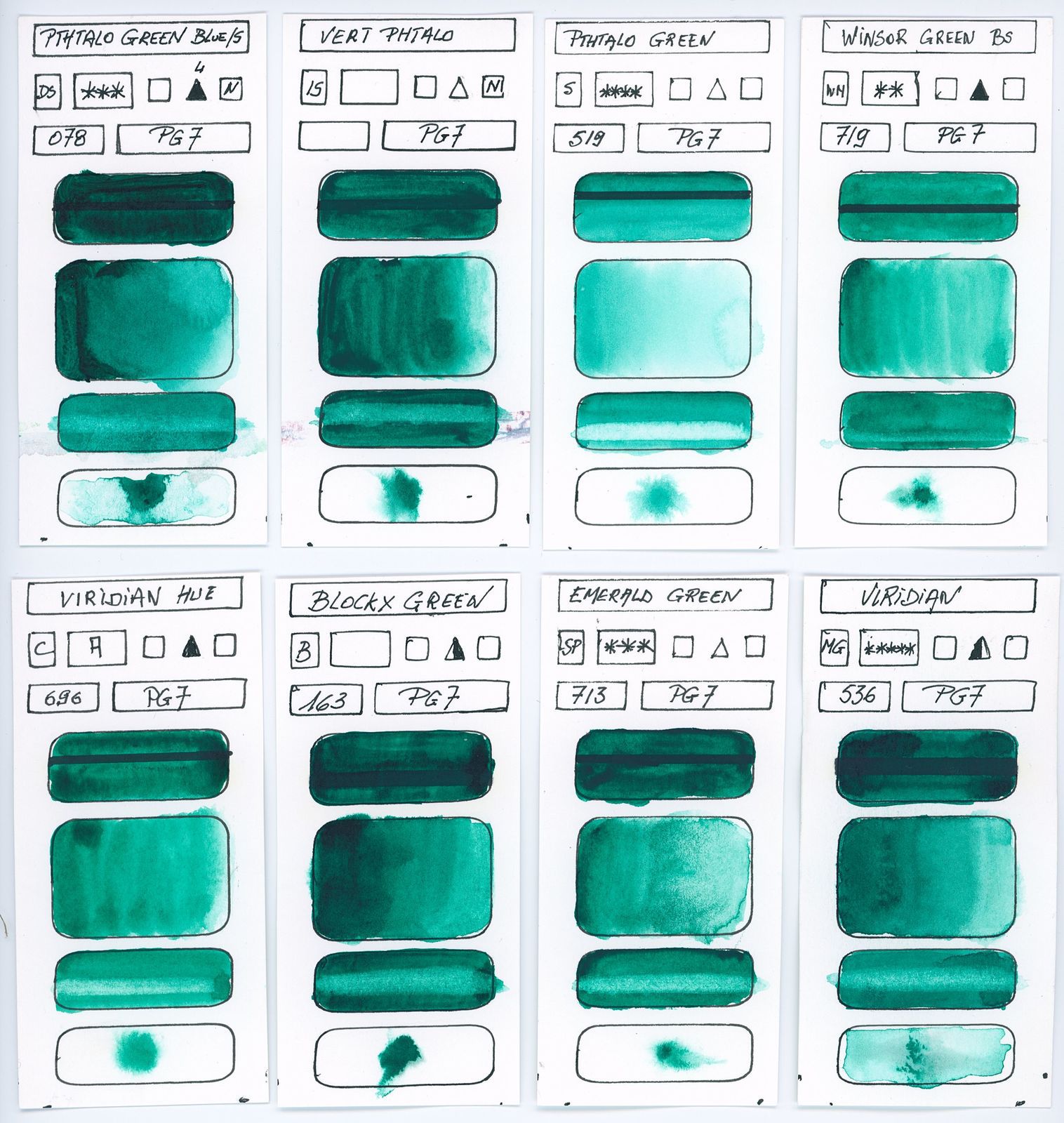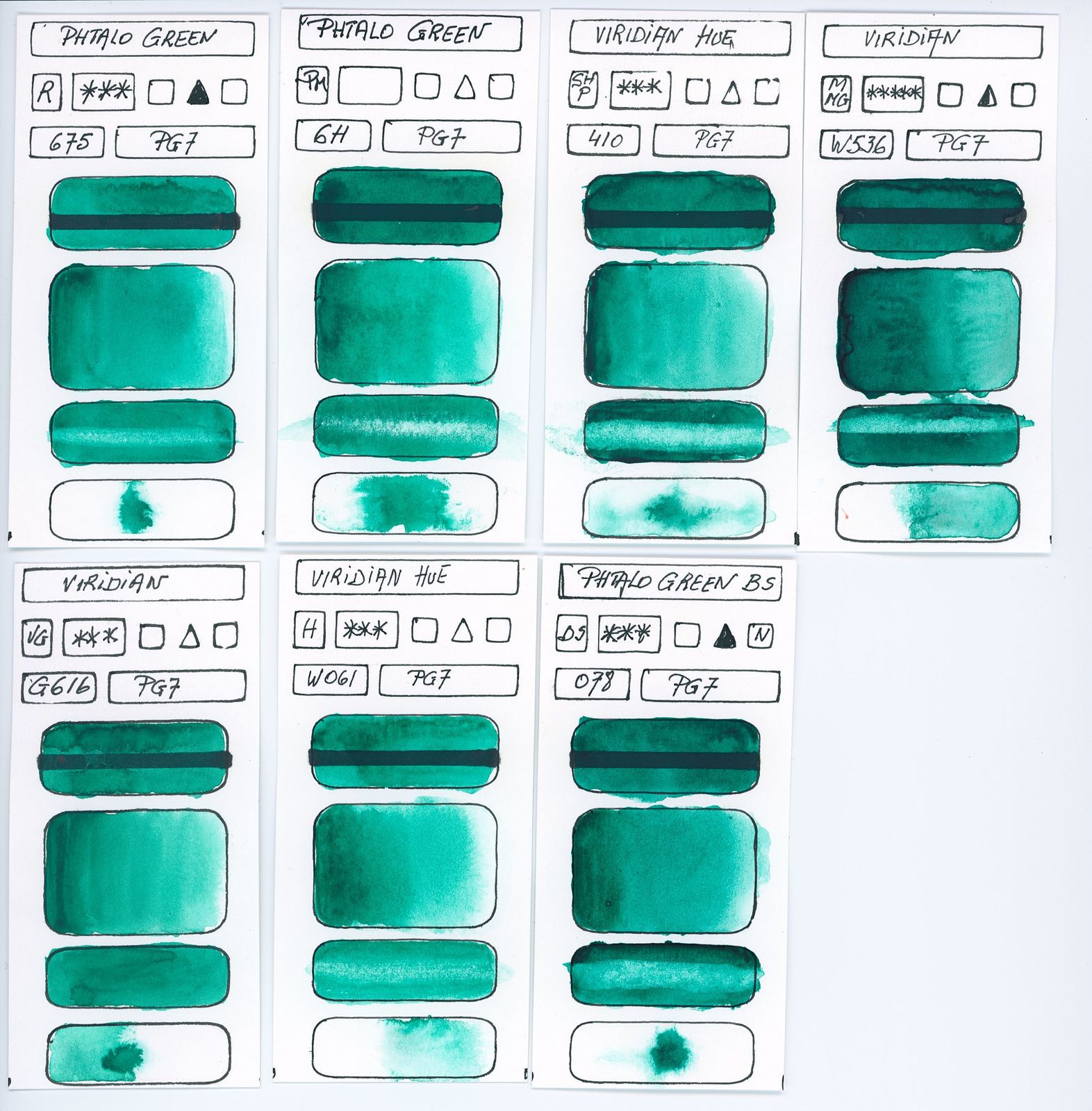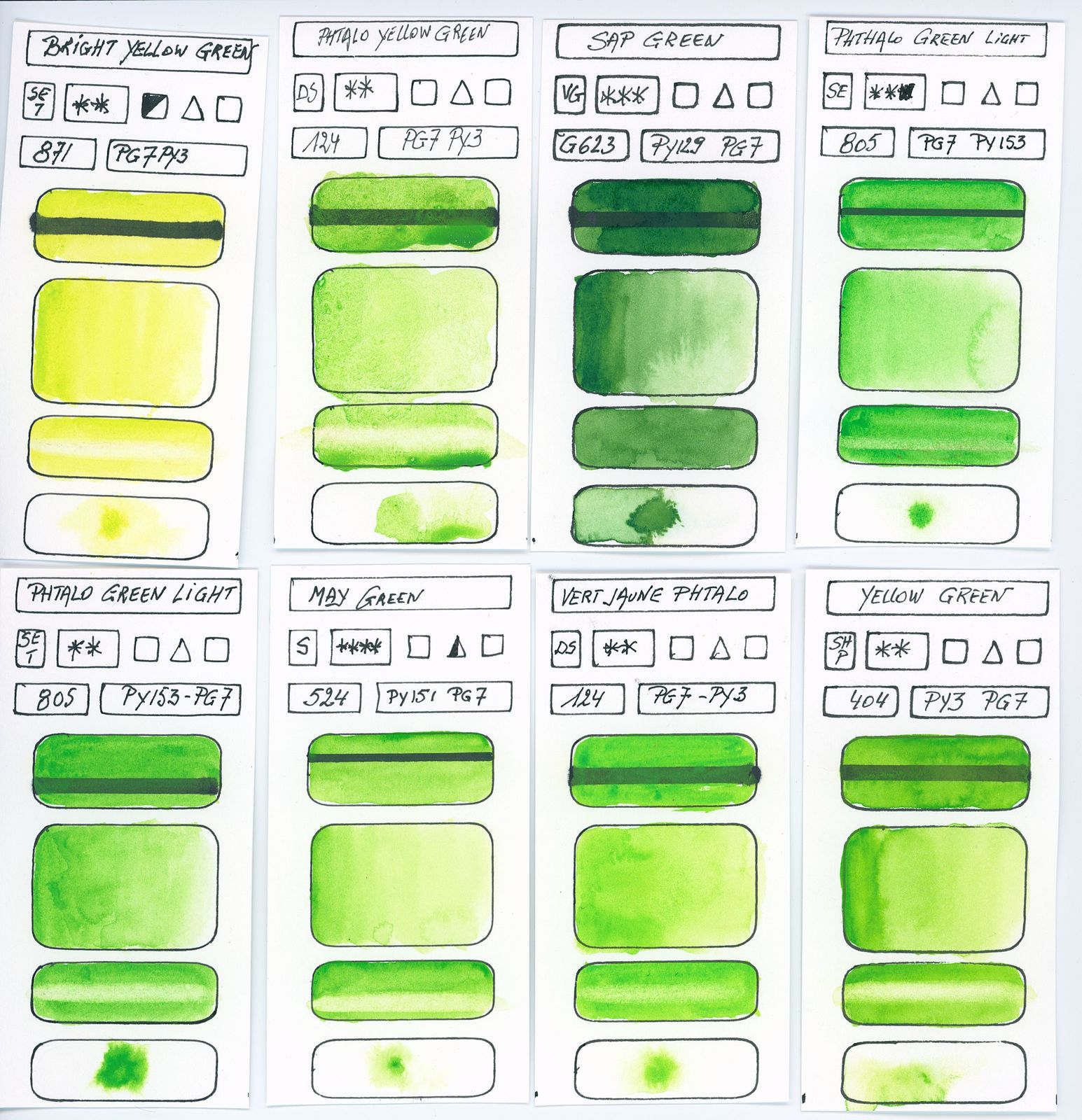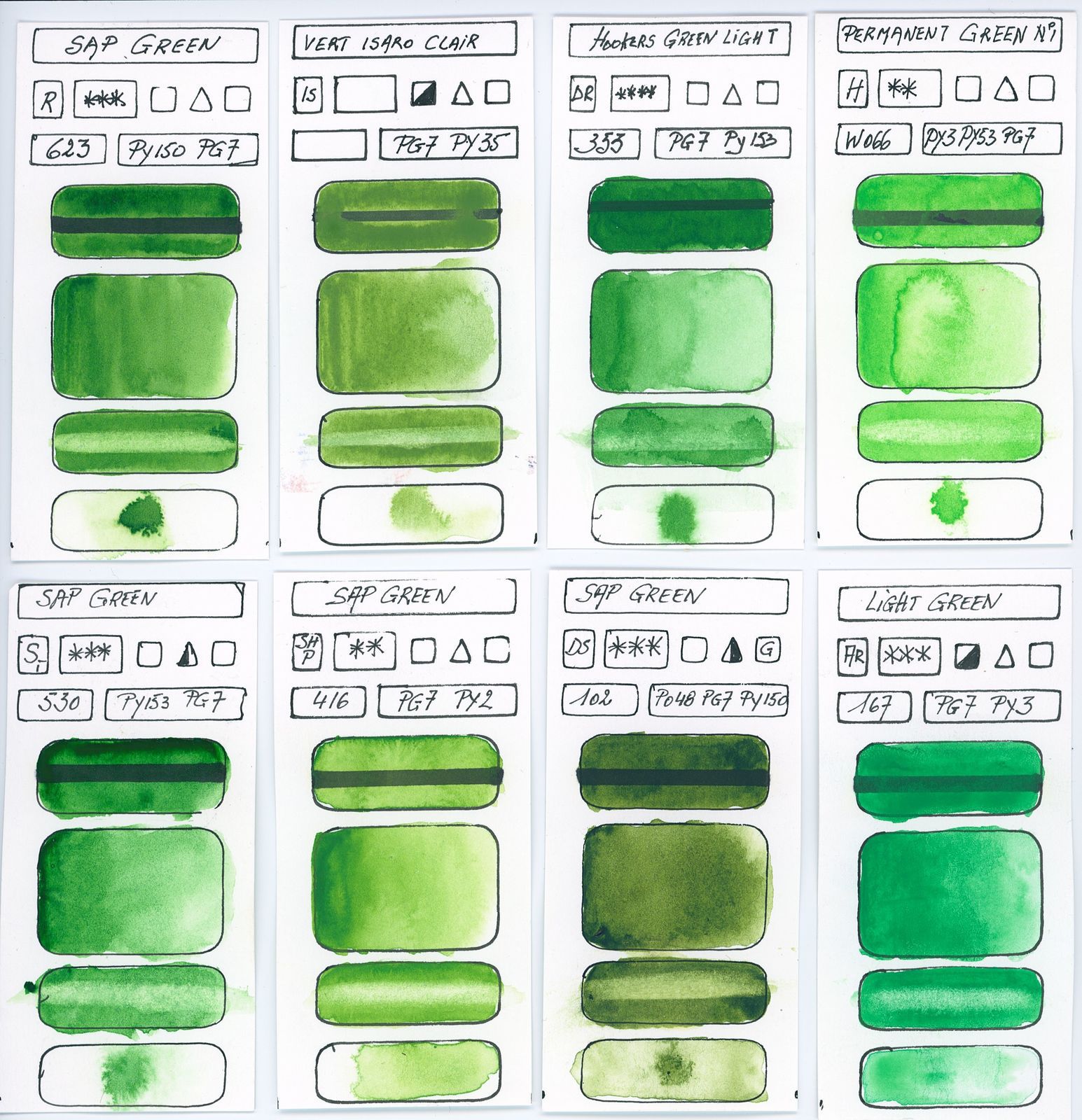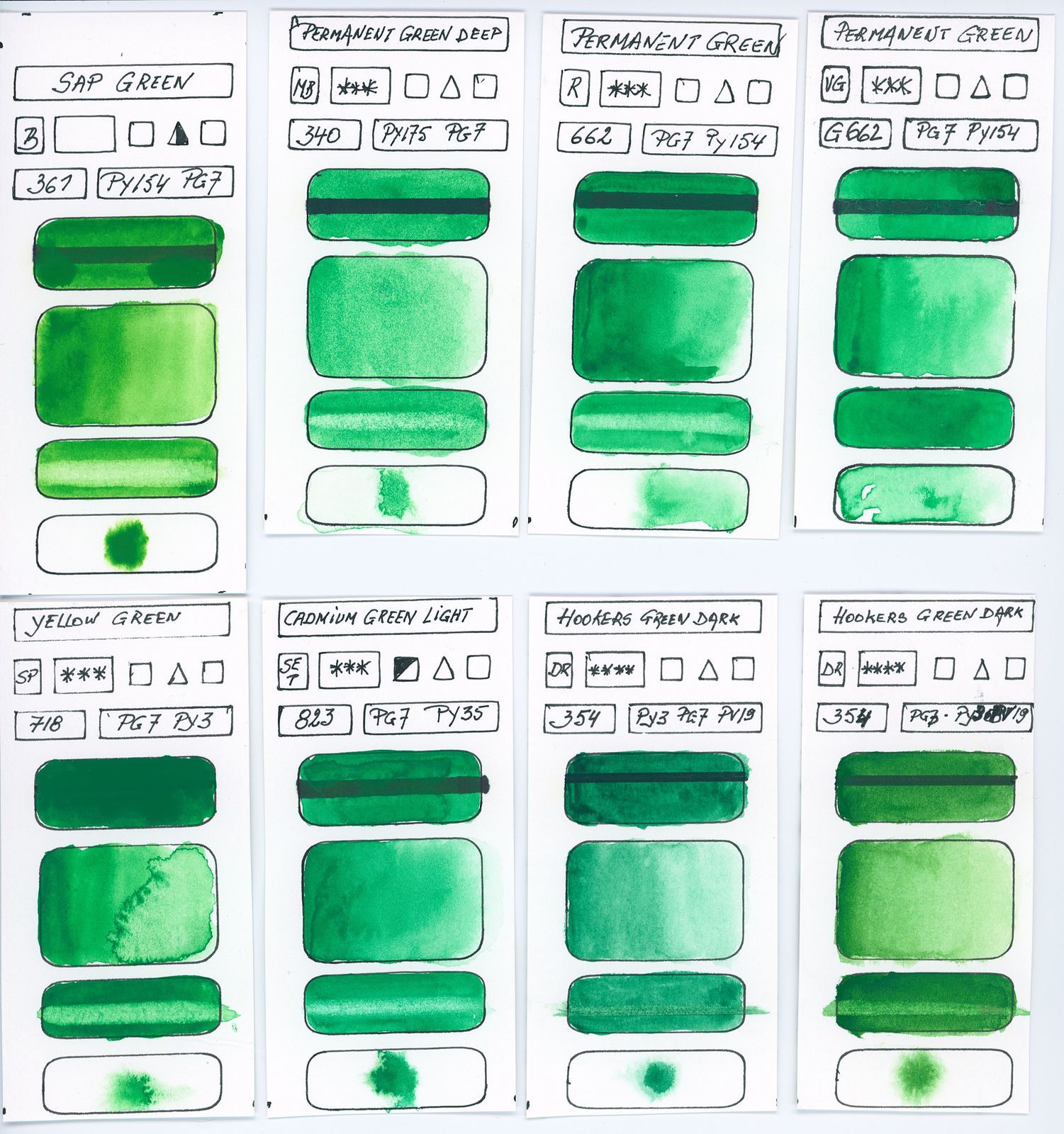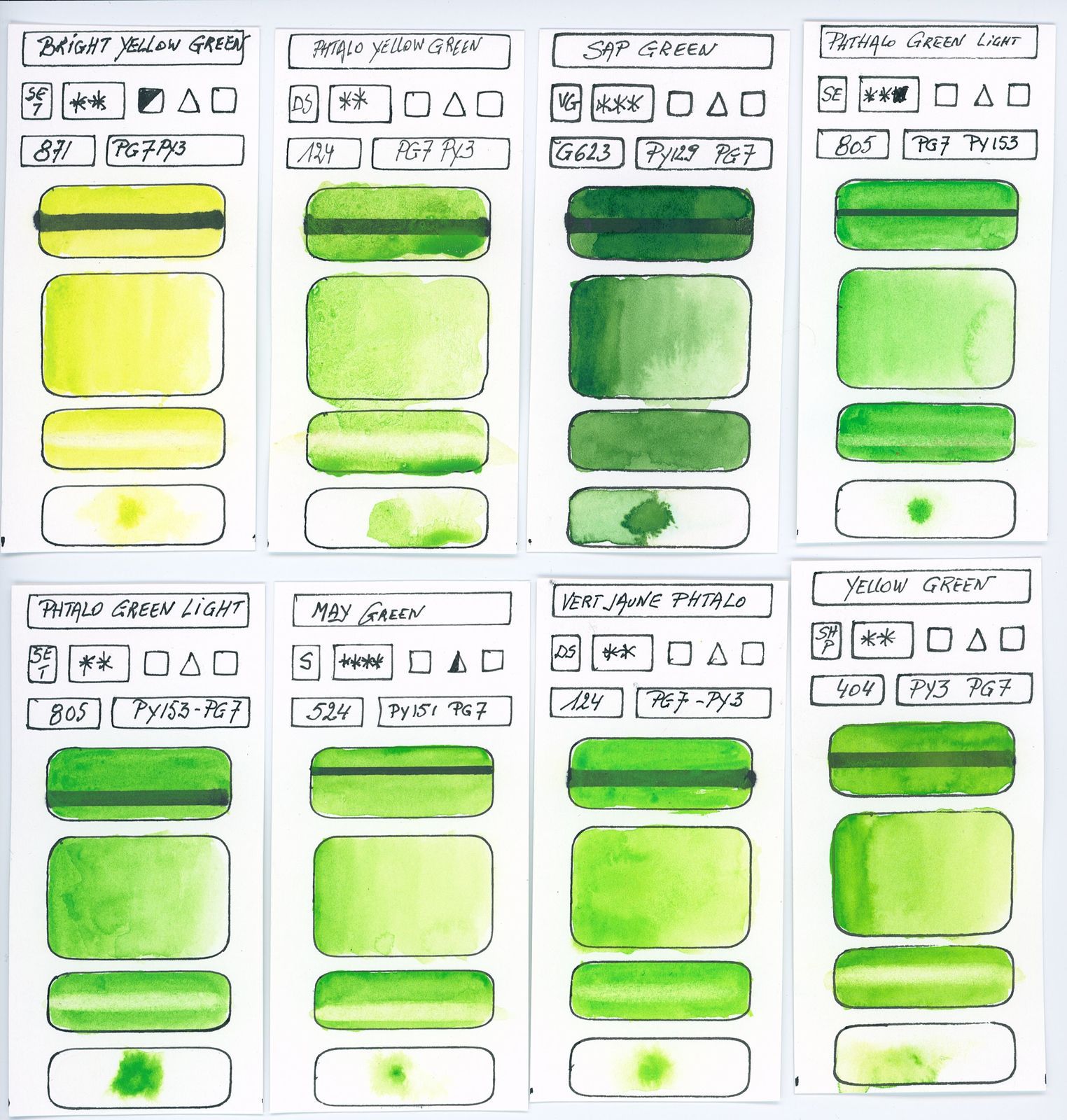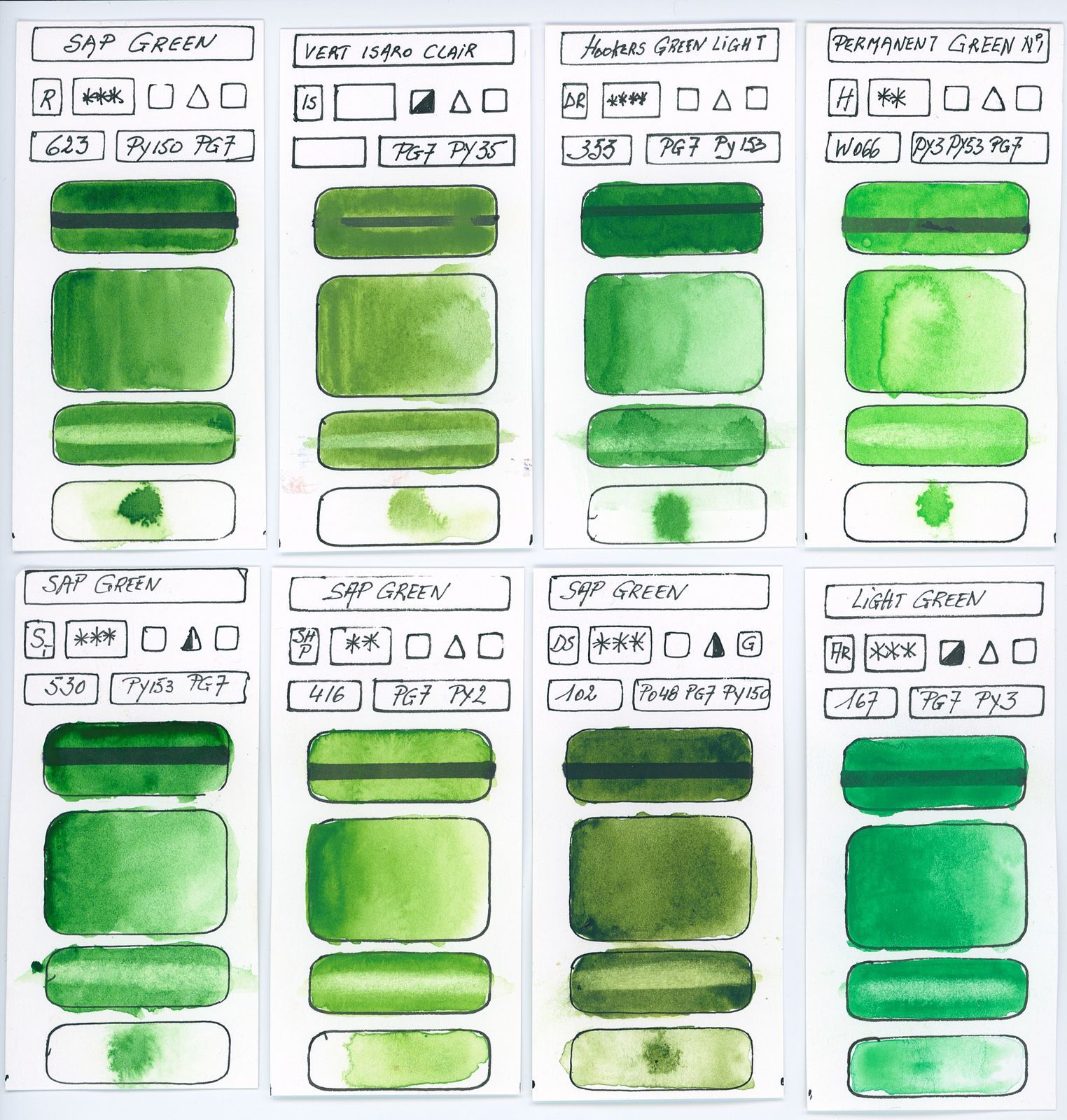 PG8
Azo Synthetic (nitroso iron complex)
Hooker's green
PG8 is impermanent, semitransparent, staining, the very dark valued, very dull yellow-green pigment. It is one of the oldest chelated iron pigments.
The ASTM (1999) rates its lightfastness in watercolors as "fair" . A green a little dull in color. It varies in color from yellowish to bluish in a range of dark green. It has a good color strength. It is almost no longer in production.
It has a very beautiful and rich shade of dark green. The paint made with this pigment is an excellent substitute for Hooker's green, unfortunately, because of its poor resistance to light and its destructive contact with acids, makes that this pigment is not recommendable for the use by a watercolor painter.
Traditionally green Hooker is a mixture of Prussian Blue and Gambodge. The resistance of the light varies depending on the brand !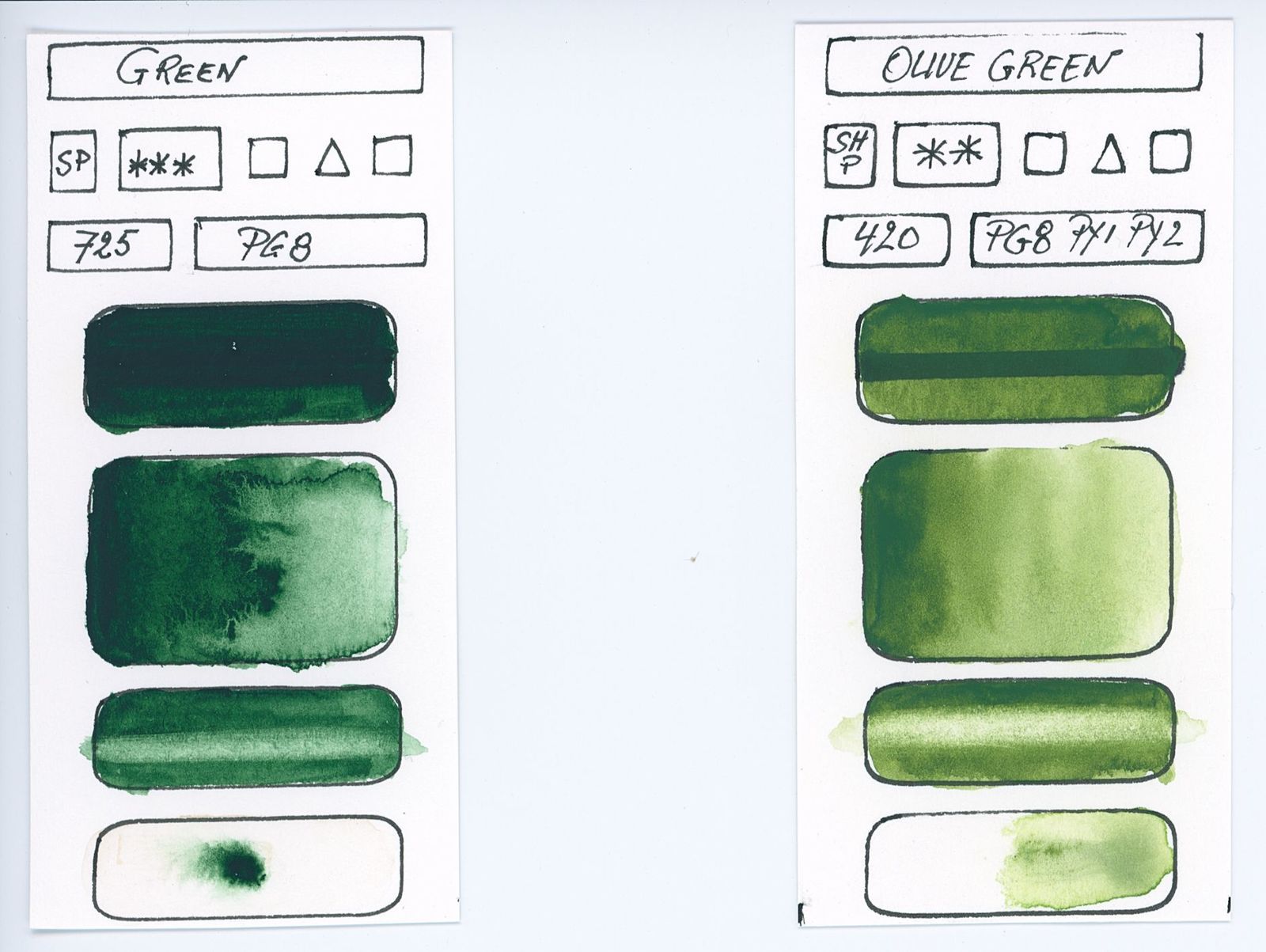 Pg17
Chromium oxide
The PG17 green is a very light resistant, very opaque, very staining and dark. Its shade is a mutted yellow green.
ASTM (1999) reports a light resistance rate as "excellent" (I). It is perhaps the most durable green pigment known. This pigment was the main pigment of the military camouflage painting.
In the watercolor PG17 undergoes a very large variation in the drying process. It darkens nearly 13% and has a saturation loss of 35%. It can be highly appreciated, in shades or mixtures, but it is dull and lifeless when used pure. The staining strength of green chromium oxide is moderately high.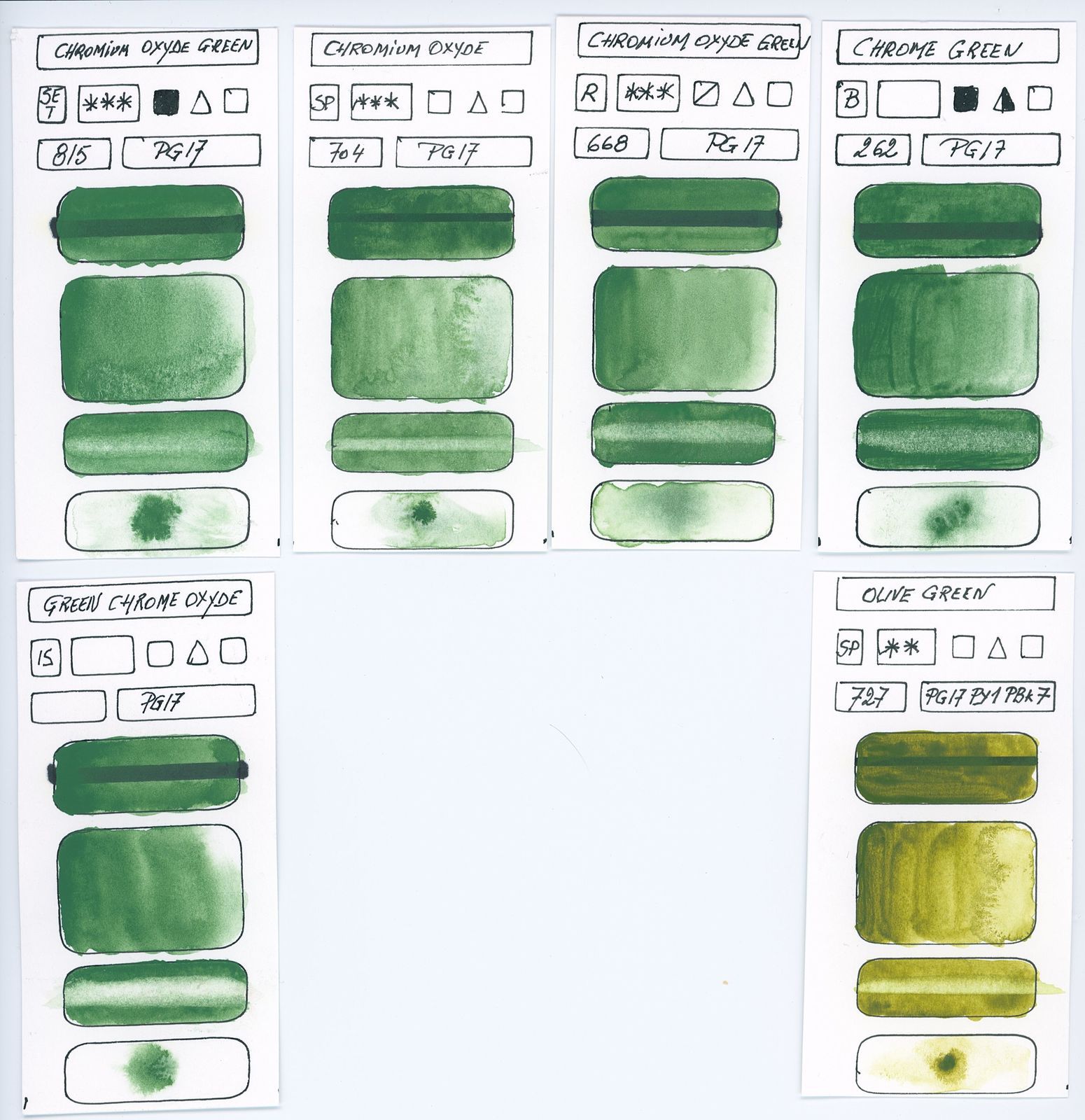 PG18
Hydrous Chromium Sesquioxide (Viridian)
Medium or dark green, varying to blue-green. Viridian PG18 is very light resistant, transparent, lightly saturated, and a moderately dull greenish blue shaded color.
In watercolor PG18 undergoes a small variation in drying; it lightenes slightly, and loses some saturation. In most brands, it is a little grainy and textured. It is noted that this green has a low saturation and is very light staining. It is brighter and more transparent than the PG-17, but the saturation is very low.
There is some nonchalance to the use of "Emerald Green" as a color name for Viridian. According to some historical sources, list the term "Emerald Green" in this sense a "transparent chromium oxide", otherwise known as Hydrated Chrome Oxide (Emerald). The best complementary hues for the Viridian are pyrrole-red (PR254), scarlet naphthol (PR188), brown quinacridone (PR206) or perylene brown (PR179).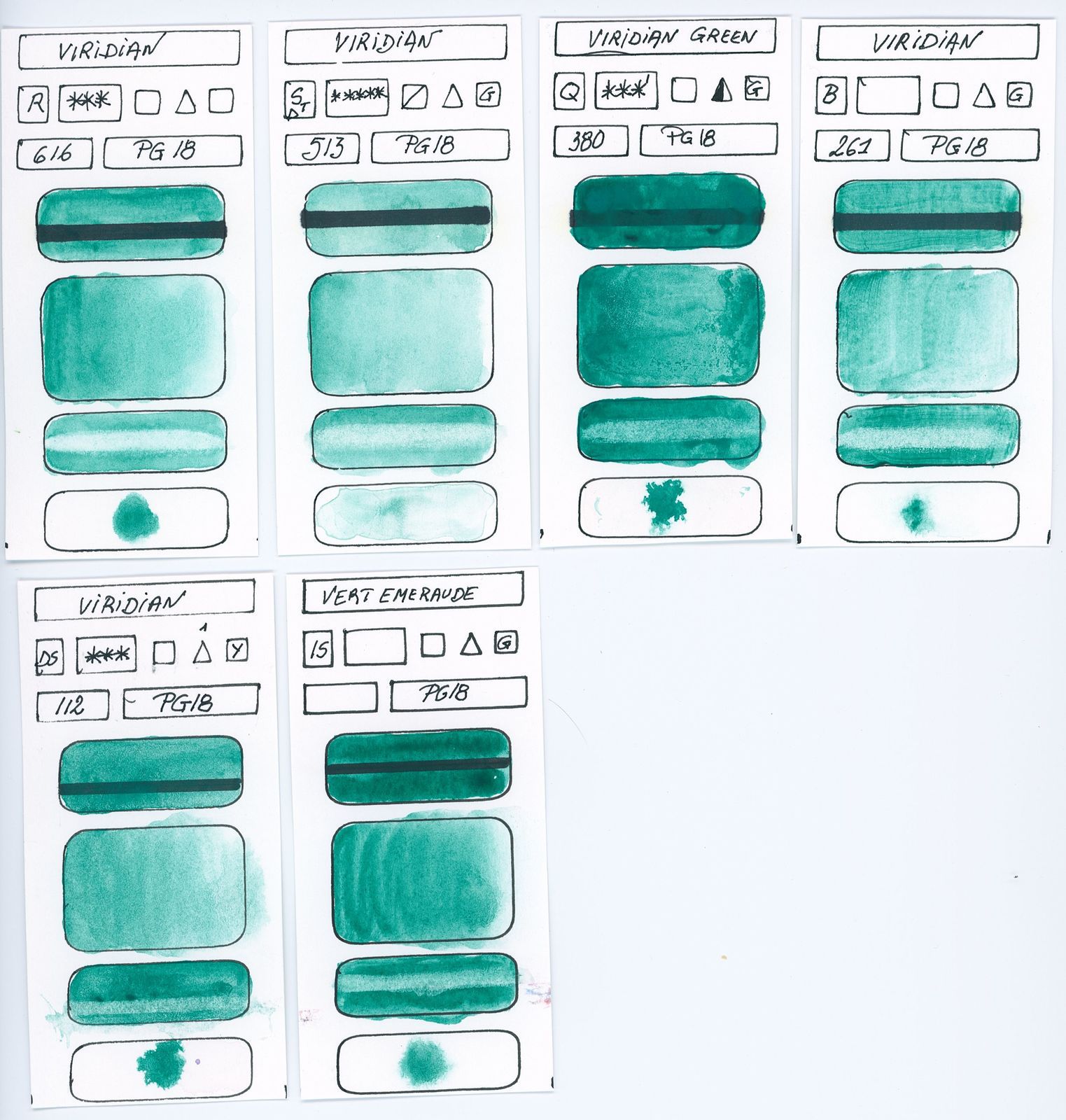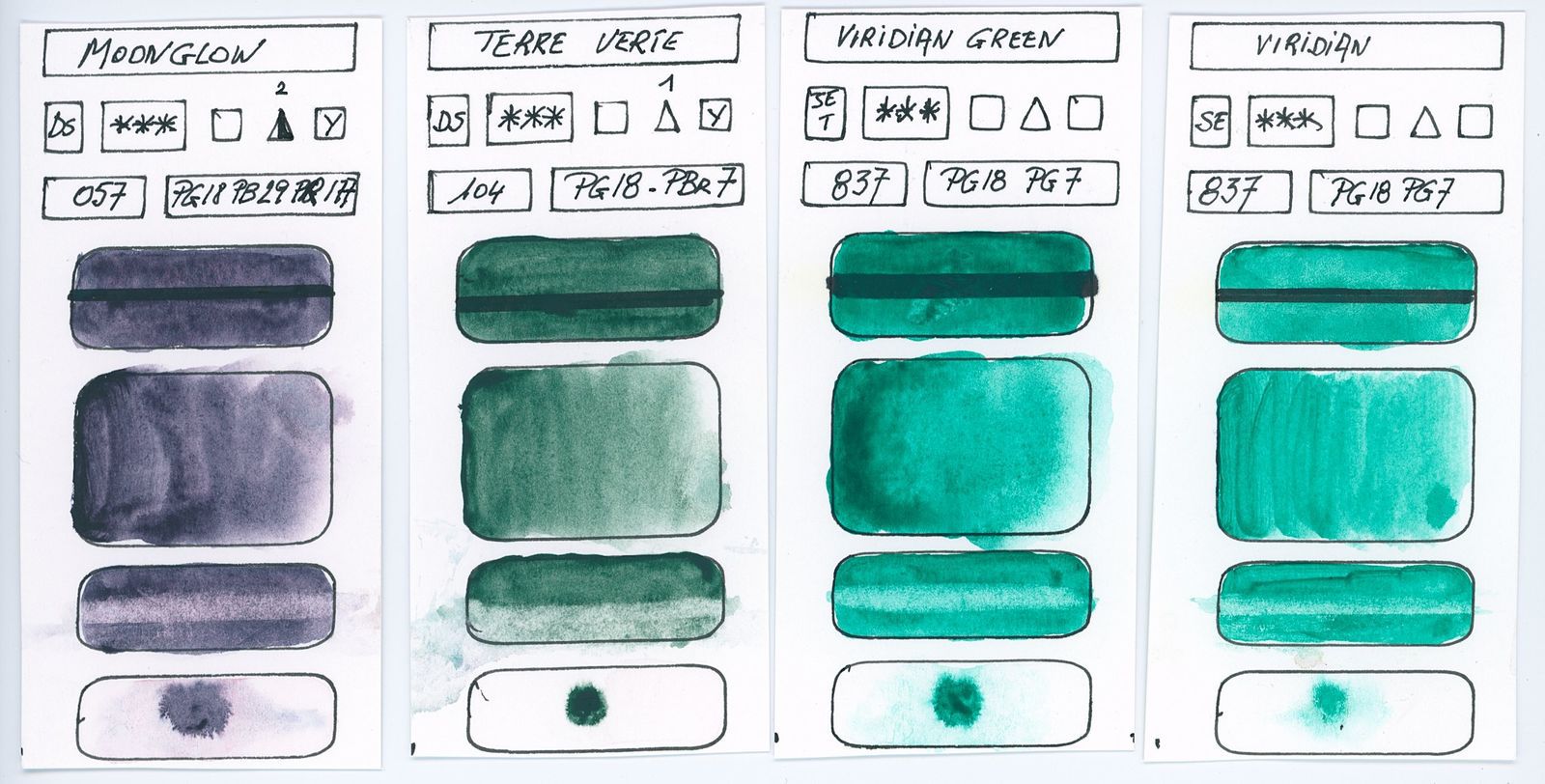 PG23
Celadonite (Green Earth)
The Green Earth, like the other earth pigments (ocher and iron oxides), is very light-resistant, semi-transparent, slightly saturated and little staining, it is a dull yellowish green.
ASTM (1999) evaluates its resistance to light in watercolor paints as "excellent" (I).
But almost all modern watercolors with the same name are imitations or « hues » created with a wide range of organic or mineral pigments.
Clays from central Europe were used as pigments in Roman times. The hue varies from yellow to blue-green, depending on the geological provenance and the variation of the clay used.
As natural sources of pigment are largely depleted, manufacturers mimic true green earth with a substitute for mineral pigments such as viridian, iron oxide or chromium oxide.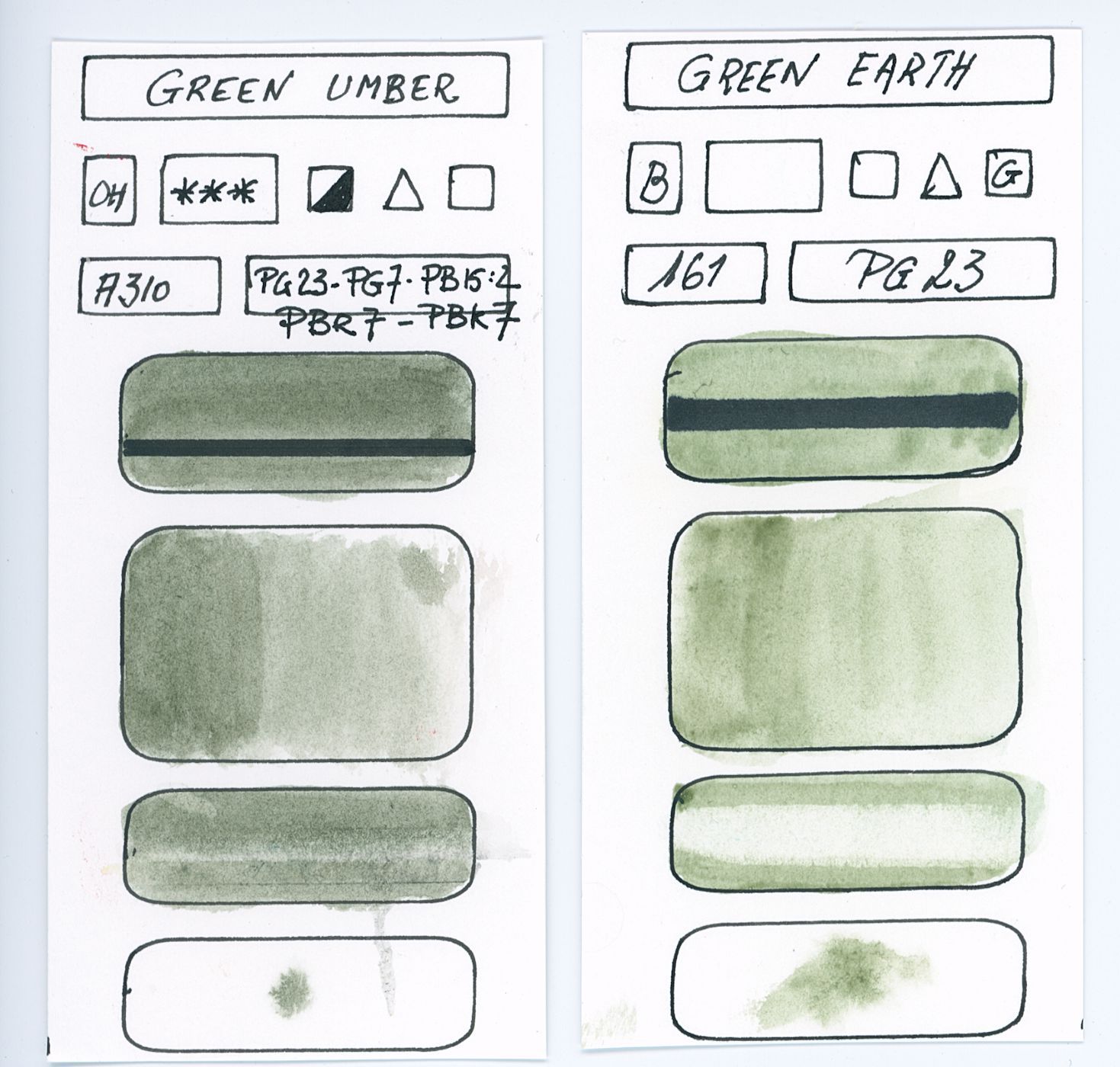 PG26
Cobalt chrome oxide
This pigment produces water-based paints that are highly light-resistant, opaque, staining, dark, and produces a dullish blueish green.
According to the different manufacturers, the PG26 greens varies from a little dull and bluish to a brighter and lighter green. The coloring strength is average and the pigment creates semi-transparent watercolors.
This Cobalt Green (CoCr2O4) is obtained by calcining at high temperature a mixture of Cobalt and Chromium Oxide.
WARNING !
Contact with the skin can cause allergies, especially on the elbows, neck and ankles. Inhalation of this pigment may cause asthma. Ingestion may cause vomiting, diarrhea and heat sensations!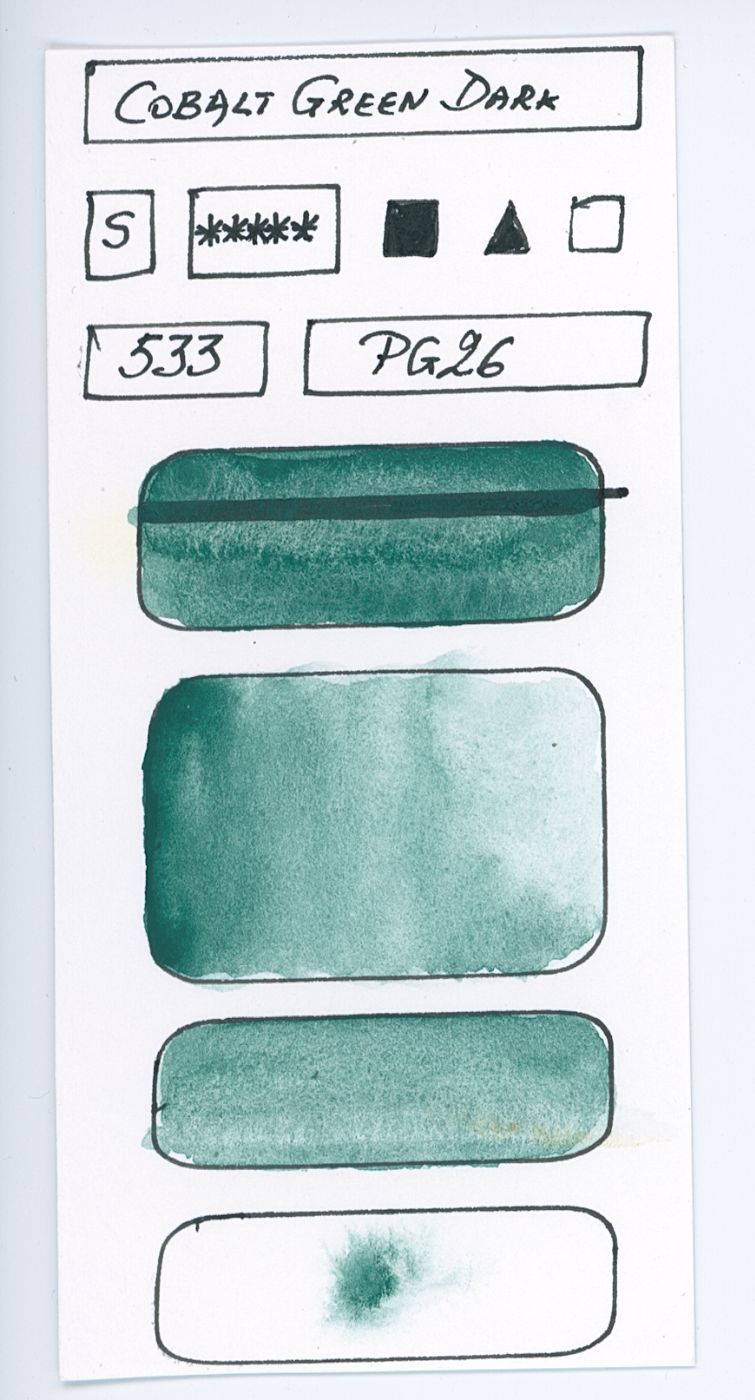 PG36
Phthalocyanine green yellow shade derived from Phthalocyanine
Very high chromatic power. According to the manufacturers the watercolors made with this pigment vary from a neutral green to a yellowish green. Slightly less staining than his cousin the PG-7.
The characteristics of this shade are; transparent, very staining and while drying it darkens, tarnishes, becomes pale. It can « bronze » (develop an iridescent luster). Very resistant to light, the ASTM indicates a BWS 8; 8; 8; In the watercolor the phthalocyanine green undergoes a rather big change during drying, at the same time it clears and loses around 20% of its saturation. PG36 has a lower value and is less tinting than the PG7. It is weaker in mixtures than PG7 and is more actively diffused in wet washes. The hue is very close to the green designed as "ideal". Its best supplements are quinacridone rose (PV19), benzimidazolone marroon (PR171) and quinacridone carmine. As for the PG7, this pigment is very interesting as a base for mixing your personal greens. Be careful because this color is very powerful and quickly dominates your other pigments, especially yellows. I will comment on this in the third part I devote to greens.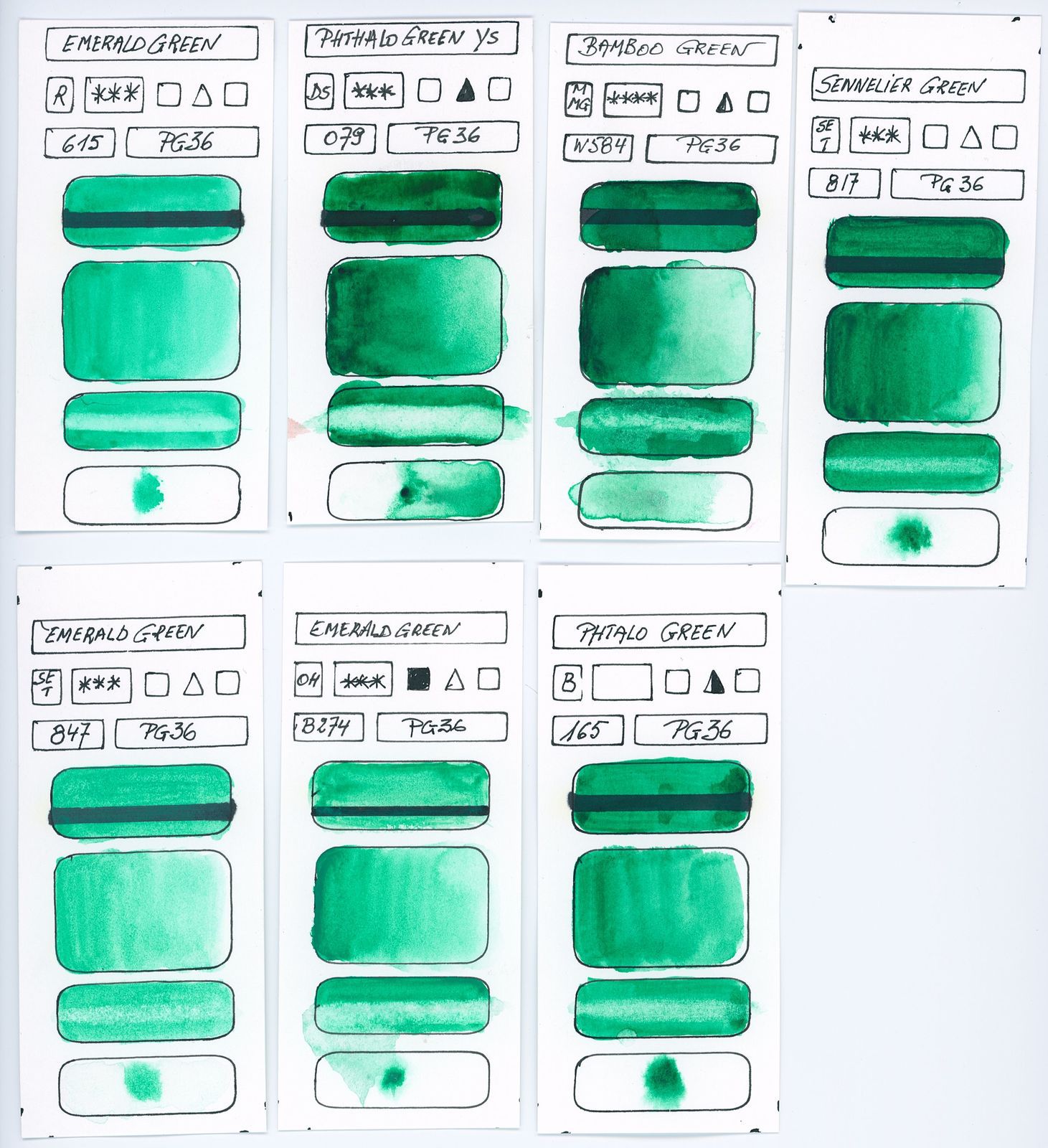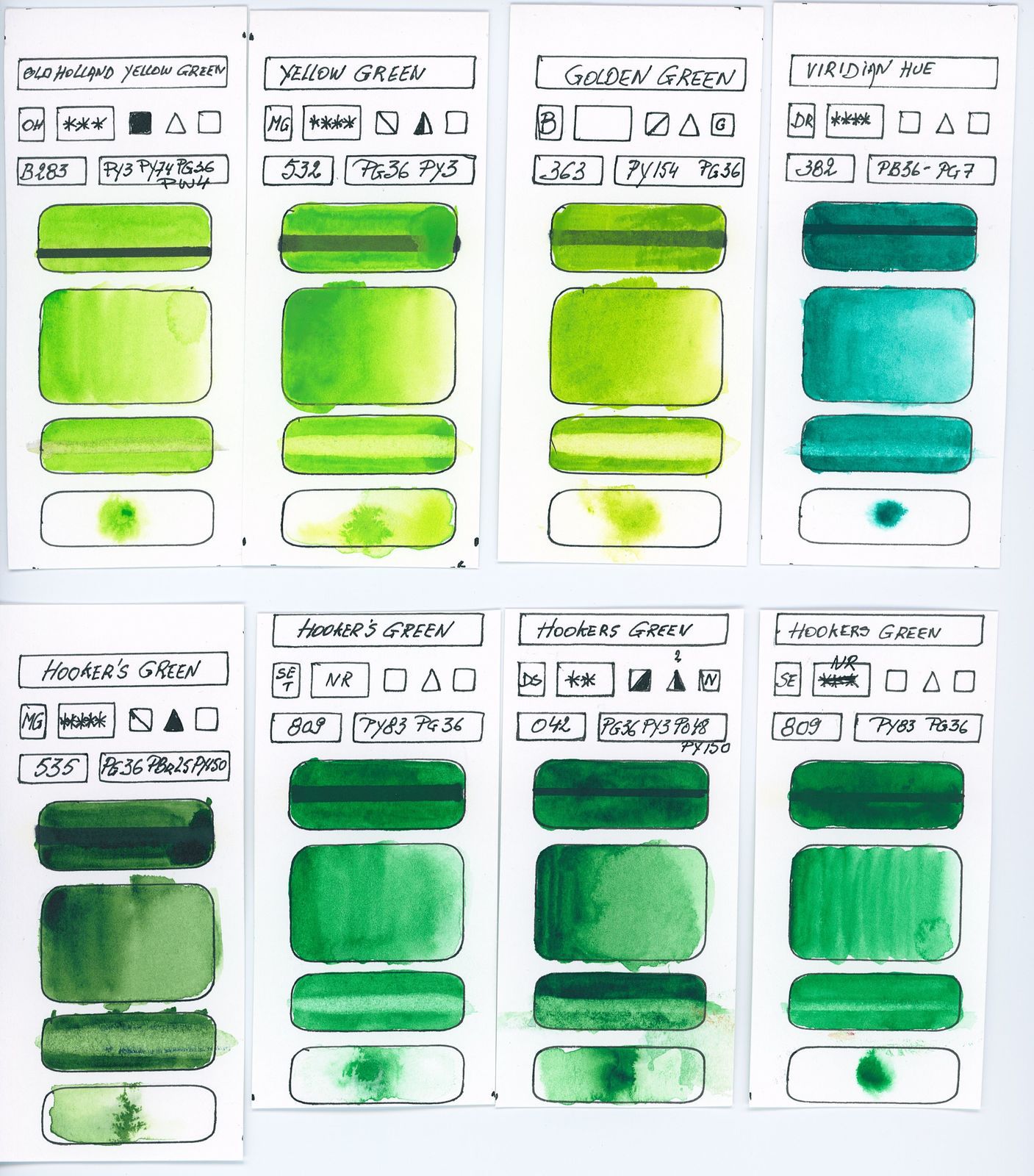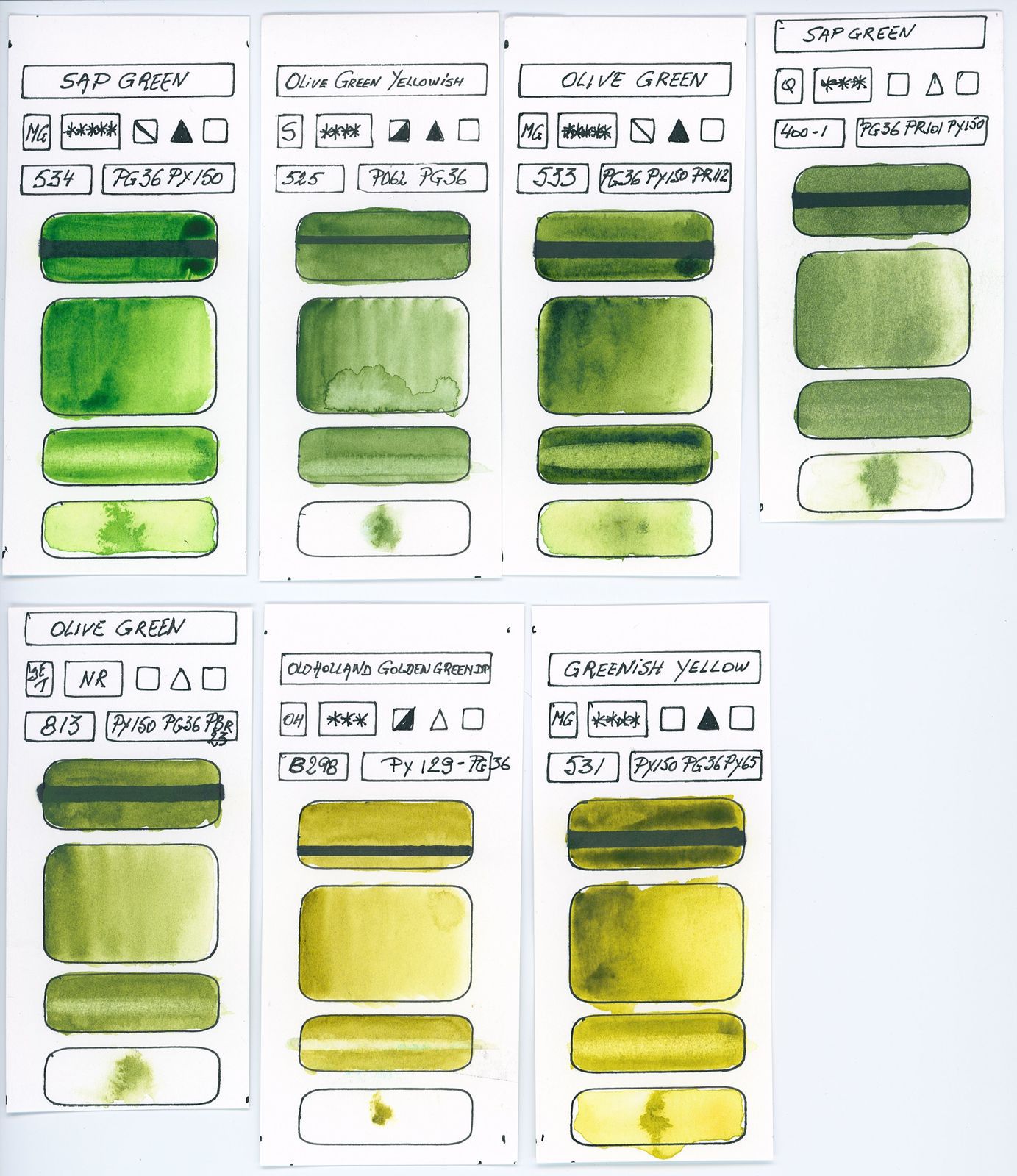 PG50
Cobalt titanate
The PG50 is a very lightfast (BWS 8.8.8), opaque to semi-opaque, moderately staining, moderately intense. A rather dark blue green, moderately dull blue-green or green.
These PG50 watercolors are excellent "(I) with regard to resistance to light, although they are not yet evaluated by ASTM. (Cfr. Handprint, Artistcreation and some of the authors I mention bellow.
The watercolor paint with the PG50 pigment undergoes a little lightening (10%) when drying with a slight loss of saturation.
Depending on the formulation, this pigment can create several colors including Turquoise (teal blue). The color of watercolor paints made with this pigment can vary from a dull olive green to a semi dull light green. The variants of this pigment are available in Blue and Yellow.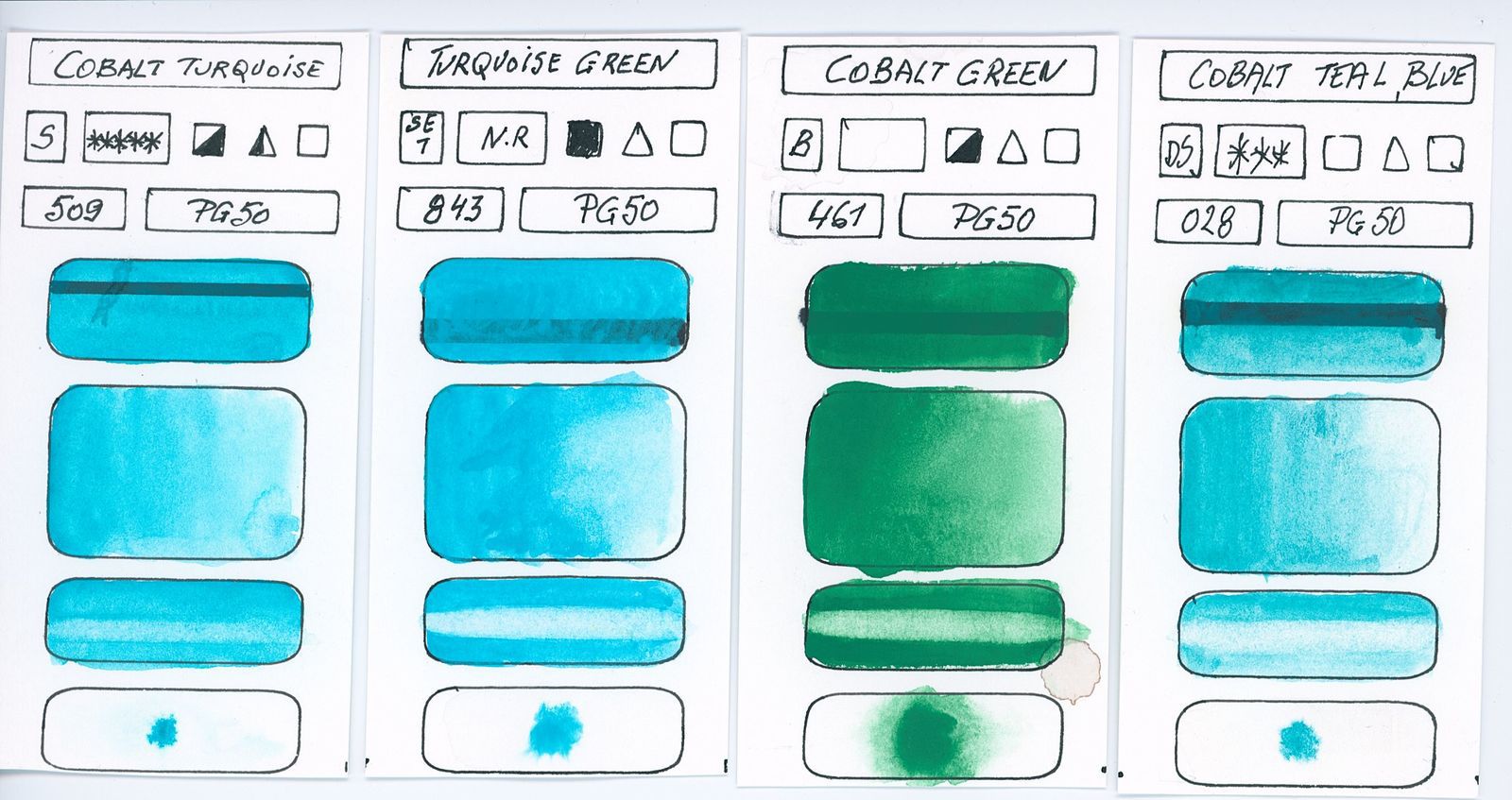 NC
Unfortunately, some manufacturers still give information about the pigments they use. Here are my samples of these watercolor paintings that I own. But I do not recommend buying tubes or pans without information about pigments, as this is a risk for not only the light resistance but also its unpredictable behavior in mixtures, so you'll have to test them yourself!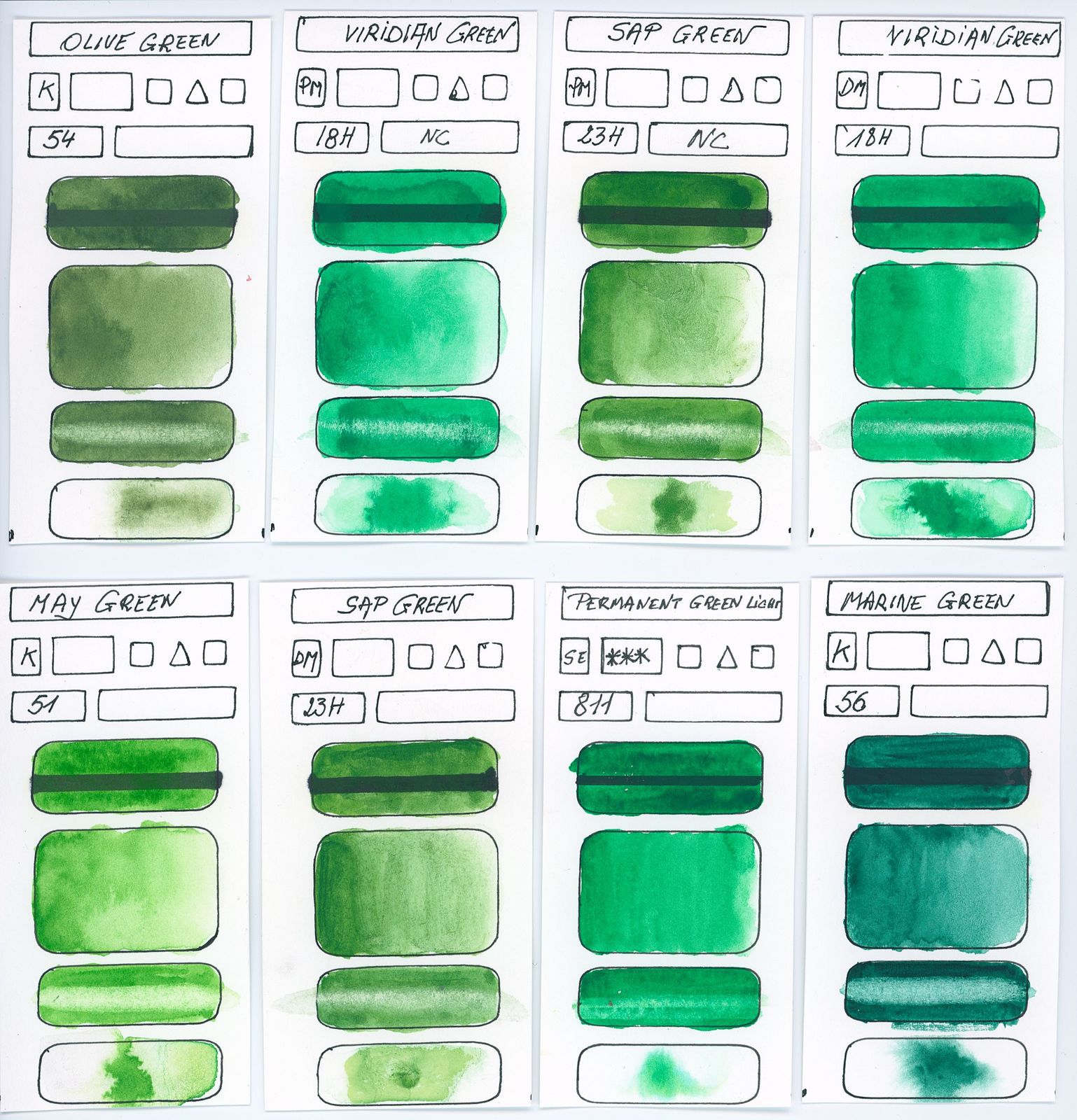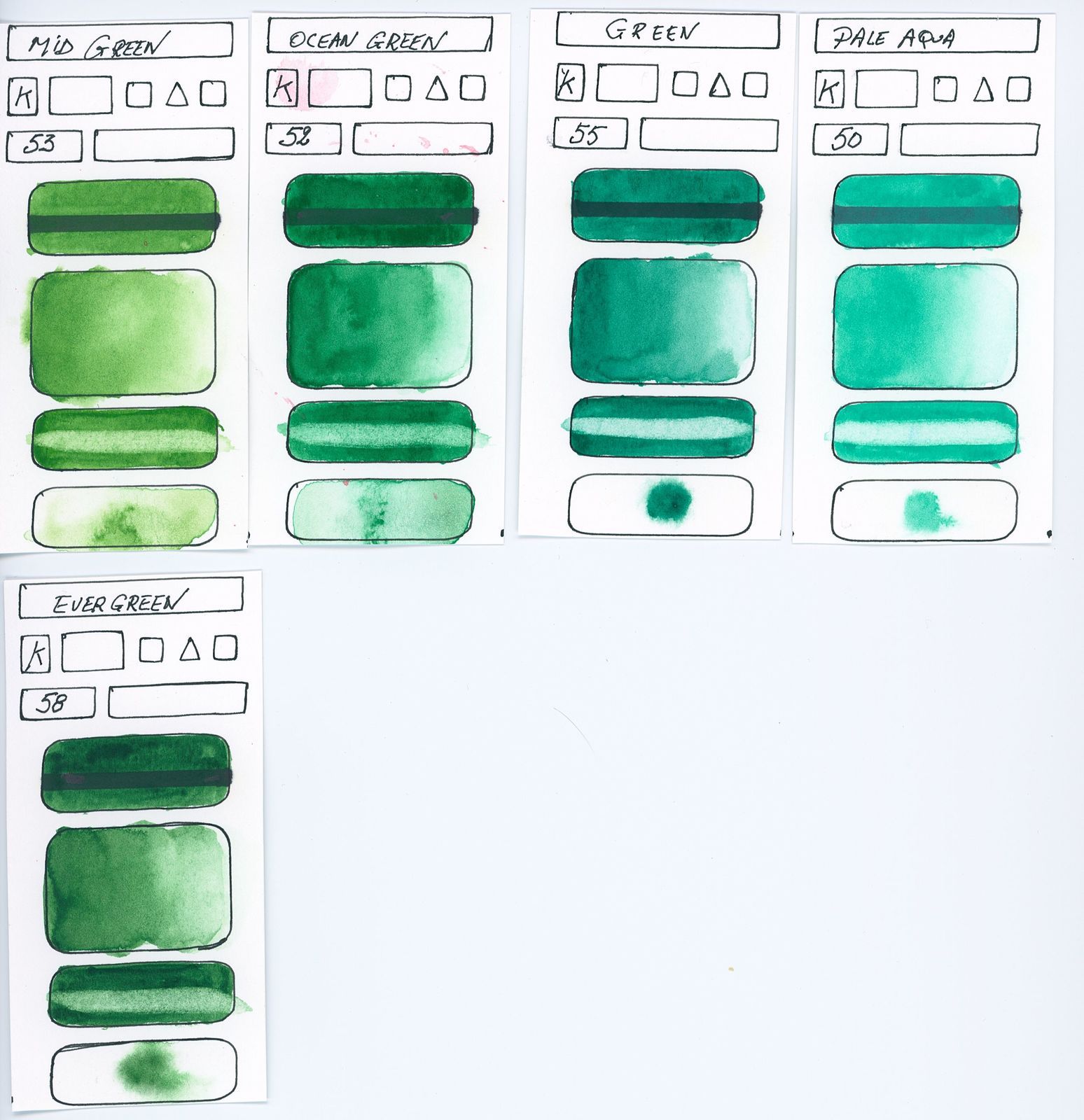 As I already showed you in this article, the commercial mono-pigmented greens are limited and often very unnatural. Because of this, and especially for beginners, it is necessary to know how to mix and modify the bases to obtain natural greens.
In the next article I will give you some tips on how to make your greens from blue and yellow pigments.
I wish you a good reading and do not hesitate to contact me if you have any questions.
FIND HERE LINKS TO OTHER COLOR PIGMENTS ON MY BLOG :
YELLOW : http://www.desireherman.com/2018/02/all-about-yellows-commented-swatches-by-pigments.html
RED : http://www.desireherman.com/2018/03/red-pigmented-watercolour-paints.html
BLUE : http://www.desireherman.com/2018/05/blue-watercolor-paints-according-to-single-blue-pigments.html
ORANGE : http://www.desireherman.com/2018/10/orange-pigments-for-watercolors.html
PURPLE : http://www.desireherman.com/2019/01/violet-pigments-used-in-watercolor.html
GREEN : http://www.desireherman.com/2020/01/green-pigments-in-watercolor.html
ABREVATIONS
(Signs and abbreviations used on the swatches with explanations to better analyse and read the swatches)
http://www.desireherman.com/abrevations.html
Bibliography
Books
Knowledge and inspiration by books of
Jan Heart, Jeanne Dobbie, Nita Leland, Hazel Soan, Stephen Quiller and many others
Internet