Abbreviations and bibliography concerning the pigments used in watercolor
Abbreviations and Bibliography
Guideline to Analyse my Color Swatches
It took me nearly 2 years to paint more than 1000 different swatches of watercolor paints made by a lot of different brands. Most are professional grade or "extra-fine" watercolor paints, but I also included some student grade or "Fine" watercolors.
I decided to paint these to help professional and amateur watercolorists to have a preview of the behavior of different brands, pigments, and formulations.
I'm not a scientist, nor a great master, so my opinion is just personal and I do prefer that my readers make their own.
I just want to let you know that I'm not sponsored by any brand and that, on behave of some test dots, I had to buy all these paints by myself. So I think that I can say that I'm not influenced.
Swatches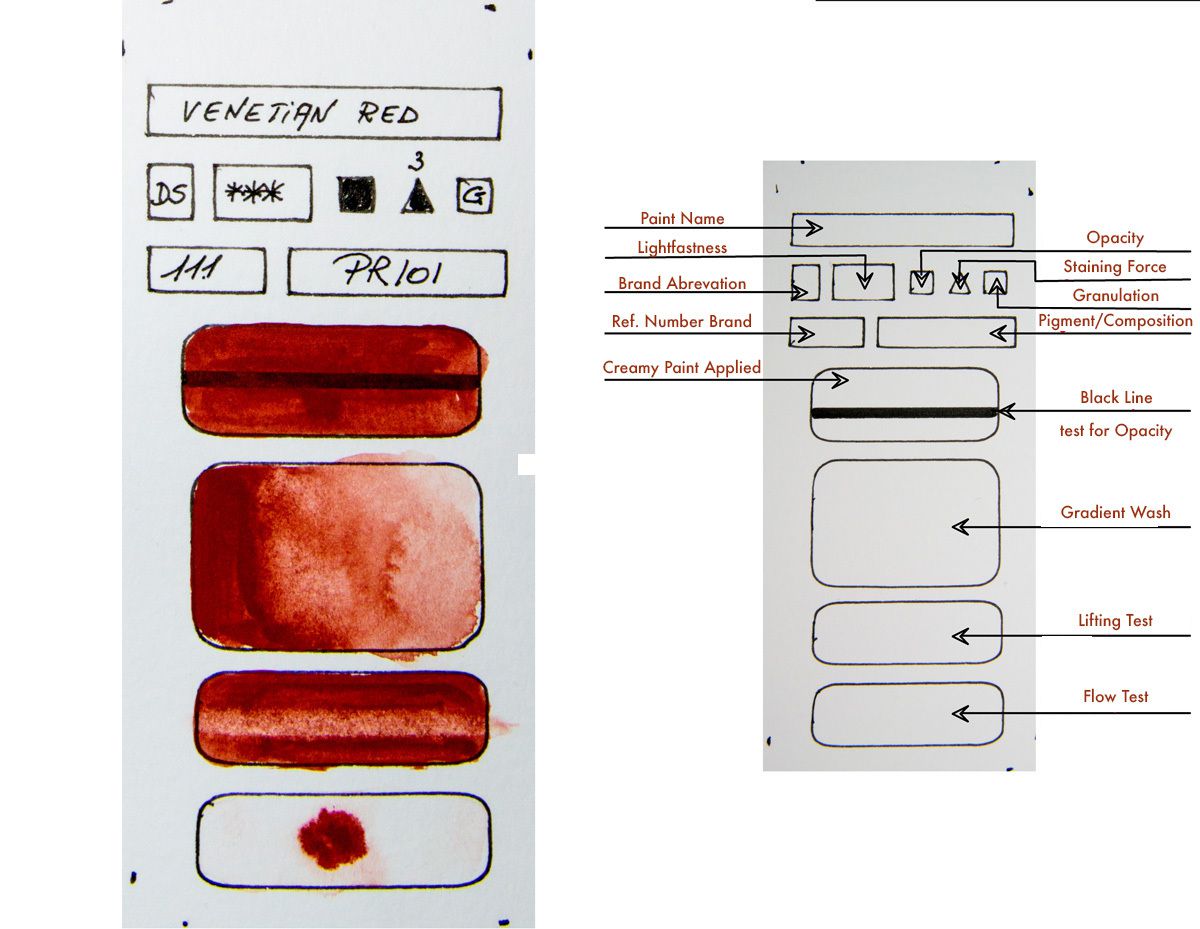 Name of Color used by Manufacturer: I use here the name given by the manufacturer to its hue
Lightfastness: These are the indications given by the manufacturer. According to the brands, there are qualifications ranging from 3 to 5 stars for excellent resistance to light.
Manufacturer's Brands: Here I use abbreviations mentioned below:
AR: Arteza
B : Blockx
DR : Daler Rowney
DM : Dr. Ph. MARTIN
DS : Daniel Smith
DV : Da Vinci
H : Holbein
I : Isaro
JA: Jackson's
K : Kuretake
MG : M. Graham
MMG : Mijello Mission Gold
MB : MaimeriBlu
OH : Old Holland
PM : Dr. Ph. Martin
Q : QOR
S : Schmincke followed by T = tube followed by G ou P = Pan
SE : Sennelier followed by T = tube followed by G ou P = Pan
SP : Saint Petersburg White Nights
SHW: ShinHan Professional Watercolours Extra-Fine
SHP : ShinHan Professional Watercolours Fine
R : Rembrandt by Talens
VG : Van Gogh by Talens
W : Winsor & Newton followed by T = tube followed by G ou P = Pan
WN : Winsor & Newton followed by T = tube followed by G ou P = Pan
Manufacturer's reference: Here is referenced the number given by the manufacturer identifying this hue.
Regarding the pigment used; it is internationally abbreviated name. To better understand, a quick summary. The first letter P is the abbreviation for pigment. The letter (or letters) indicates the color, the abbreviation used are English. Y means yellow, R means red, B means blue, O means orange, V means purple, G means green, Br means brown, Bk means black and W means white. Follow the number to identify the pigment.
Opacity :

Force Teintante :

Granulation :

First rounded rectangle with black bar: Here I use a fresh paint bucket or tube, just slightly diluted. I paint above a black line (Water resistant, traced with a black marker), which allows observing the opacity of the paint
Second rounded rectangle: Here I use in the wet a gradient wash in order to better see the tones in the dilution. On the left, I apply a painting out of the tube and dilute gradually with water. This also gives an indication of the coloring power of the paint.
Third rounded rectangle: Here I paint the rectangle with different strength of dilution and after drying for 12 hours, I open the whites (repented) with a rather hard synthetic brush. We can see the tinting strength of the paint.
Fourth rounded rectangle: Here I wet the site very hard and I put a little paint in the middle and let it do its "thing". This allows seeing the ability of the painting to spread. As the paper does not always buckle the same way, there is more towards the right or left, but the observation is the same if the painting shows a denser heart, it is that does not dissolve completely and is less able to broadcast. The information is that found on manufacturers' color charts. You can see that it is not always correct. Especially at the level of transparency/opacity, there is an opportunity to review this position.
All the samples were painted on Fabriano Academia paper, a 100% cellulose paper of 240g glued outside and in the heart. This gives you a homogeneous overview. Note that if you use a paint on another paper, be it 100% cotton, mixed or cellulose, there will certainly be differences, either in hue or characteristics.
BIBLIOGRAPHY
Currently in preparation. The article will be updated soon.